Walt Disney and Fairy Tales
"Here is the world of imagination, hopes, and dreams. In this timeless land of enchantment, the age of chivalry, magic, and make-believe are reborn—and fairy tales come true. Fantasyland is dedicated to the young and the young-in-heart—to those who believe that when you wish upon a star, your dreams come true."

When Walt dedicated Fantasyland at Disneyland Park with these words on July 17, 1955, it was apparent that this last "land" to be christened was especially dear to him, and he delivered his words from as the perceived monarch of this, "the happiest kingdom of them all."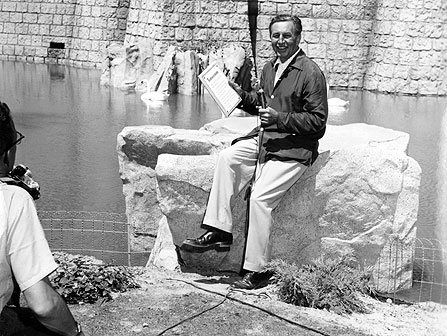 (Walt delivers the dedication of Fantasyland in July, 1955. © Disney)
What's interesting to note is that at this point in his career, Walt had produced exactly two fairy tale films of note, "Snow White and the Seven Dwarfs" (1937) and "Cinderella" (1950). His final big-screen fairy tale, "Sleeping Beauty," would not be released until four years after the opening of its namesake castle in Disneyland Park.
This impressive collection of adaptations of the stories of childhood made Walt a hero of the nursery for generations of moviegoers. Print adaptations of his short films appeared in magazines and licensed book editions, further solidifying Walt's reputation as "a modern Aesop."

Perhaps this is because, much like Aesop, Walt did not really consider these tales, or his films, "children's stories."

"We've never actually been trying to appeal to children," Walt said. "All of our situations and things like that were things that adults could enjoy without feeling that it was something that was built to appeal to the small tots. The best way to express it is that we've always pleased ourselves, you know?

"Adults are interested if you don't play down to the little two or three year olds, or talk down. I don't believe in talking down to children. I don't talk down to children. I don't believe in talking to any certain segment. I like to just talk in a general way to the audience."

After the blockbuster success of "Snow White" many stories were considered for feature adaptation, but ultimately only two further fairy tales made it to animated feature status under Walt's guidance, "Cinderella" (1950) and "Sleeping Beauty" (1959).

Part of this had to do with the similarity of these stories, at least in the mind of the public then. "You've got a lot of elements to consider," Walt said of the challenges faced with "Sleeping Beauty."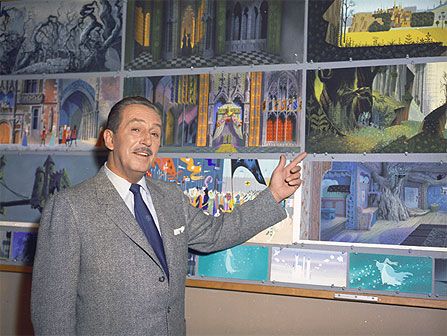 (Walt introduces TV audiences to "Sleeping Beauty," January 30, 1959. © Disney)
"For one thing, you fight to do something that breaks away from what we've done before. 'Sleeping Beauty' was tough, because it had a lot of the elements that we had in 'Snow White' and 'Cinderella.' You've got to give the animators new things to work on to keep their enthusiasm up. All of sudden in a meeting one of them will say, 'Haven't we done this before?'—and we have, so we have to change it all over again ... With the story men, I think it's easier to give 'em plenty of rope. Let 'em alone and let 'em go. When they get in a hole, they'll yell for help!"

In the end, Walt said, "I think our films have brought new adult respect for the fairy tale. We have proved that the age—old kind of entertainment based on the classic fairy tale recognizes no young, no old."

When Disneyland Park opened, it seemed natural that a fantasy castle would become a central symbol of Walt's new enterprise, and within its embracing fortifications the stories, legends, lore—and fairy tales—would have a real home, in addition to that ethereal and eternal place in heart and mind.

"Everybody in the world was once a child," Walt said. "...we don't think of grown-ups, we don't think of children, but part of that fine clean unspoiled spot down deep in everyone of us that maybe the world has made us forget...

"I go to the people that retain that 'something,' you know? No matter how old they are that little spirit of adventure, that appreciation of fantasy, I go for them, I play to them."

There's a lot of them, you know?"

We know.
The full article
here
.